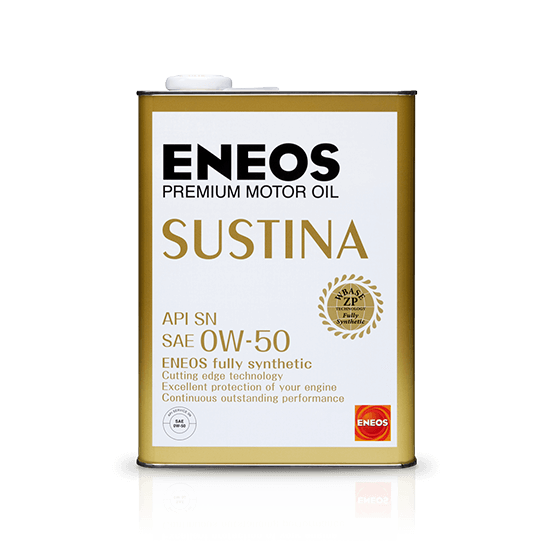 | | |
| --- | --- |
| APPLICATION | ENGINE OIL |
| ENGINE TYPE | GASOLINE ENGINE |
| VEHICLE TYPE | PASSENGER CARS |
| QUALITY | FULLY-SYNTHETIC |
| PERFORMANCE LEVEL | API SN |
| VISCOSITY | 0W-50 |
| PACKAGING | 4L |
ENEOS SUSTINA SN 0W-50 is produced using proprietary WBASE technology which generates a higher viscosity index synthetic base oil (less viscosity change due to temperature) which greatly improves fuel-efficiency under various running conditions, from short-distance commutes to high-speed cruises. SUSTINA also contains proprietary ENEOS ZP Advance Additive Technology that maintains high-performance of engine oil. It reduces sulphur content, which is contained in engine oil additives, and offers dramatically longer-lasting cleaning performance. This results in longer engine life, increased fuel economy, a cleaner engine and ultimate racing performance.
Ultimate racing performance
This oil is especially suited for sports cars with large engine displacement and high output cars driven for long periods at high temperatures and speeds, high-performance cars need outstanding thermal resistance and oxidation stability essential for protecting turbo rotors, which makes SUSTINA an ideal choice.
Increase fuel economy
SUSTINA maintains an extremely stable oil viscosity over a wide temperature range. This technology allows SUSTINA to remain very fluid at cold temperatures, reducing internal engine drag and improving fuel economy.
Engine cleanliness
SUSTINA is formulated with ZP Advance Additive Technology, a revolutionary sulphur-free anti-wear additive, that prevents engine oil degradation and achieves superior protection while keeping your engine clean.
*Available only in Malaysia